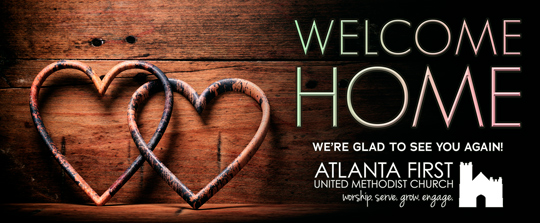 A MESSAGE FROM THE ATLANTA FIRST REOPENING TASK FORCE
Dear Atlanta First Family,
We are so excited about coming back into the sanctuary for in-person worship! Because of the care and concern you've shown for your neighbors by social distancing, getting vaccinated, and practicing good hand hygiene, we've moved to Phase Two of our reopening plan.
We're now able to have a limited return back to the sanctuary. Here are the particulars.
• The church sanctuary is now for limited in-person worship!

• Sanctuary capacity is limited to 50 people and seating will be socially distanced.

• Due to the need for contact tracing, reservations are strongly encouraged.

• The reservation period will be from noon on Tuesday to noon on Thursday prior to that week's service.

• You can make your reservation online by visiting this link:
https://tinyurl.com/AFUMCworshipreg

• Those without computer access can register by calling the church office at (404) 524-6614 on Tuesdays and Wednesdays, between the hours of 10 am to 2 pm.

• Masks are required to be worn at all times on the church property.

• Entry into the sanctuary will only be available at the 360 Peachtree Street entrance, with the exception of one handicap accessible entrance on Porter Place.

• Once registration is confirmed by the ushers, all congregants will have a temperature screen.

• Please follow the directions of the ushers for seating on the main floor. No seating will be allowed in the balcony.

• Bulletins and communion elements will be available in your seats.

• The main floor restrooms will be available.

• There will be no nursery available. Children of all ages are welcome in worship at Atlanta First!
Please note that we have a special responsibility as a church in urban ministry. Our building is located in the heart of this wonderful city, which is an international hub. And while the infection rates in Atlanta and throughout the U.S. have been trending down, there are still hot spots in many local communities along with new surges and emerging virus variants around the world.
Jesus commands us to take care of our neighbors and one of the best ways to do that is to keep our safety protocols in place for now. In this way we can look out for all our neighbors, including those who are COVID19 "long-haulers," have compromised immune systems, or are otherwise unable to get vaccinated.
We will continue to follow the guidance of our public health experts, the Centers for Disease Control & Prevention (CDC), state and local governments and United Methodist leaders as we hope to see an end to this pandemic. In the meantime, we are so happy to be able to return to the sanctuary and look forward to seeing you soon. Welcome back Atlanta First!
The steadfast love of the Lord never ceases, His mercies never come to an end; they are new every morning; great is your faithfulness. - Lamentations 3:22-23
Alisa Smallwood
Convenor, Atlanta First Reopening Task Force