engage with the City of
Atlanta and Beyond
Below you will find listed upcoming opportunities to worship, serve, grow, and engage with Atlanta First. For more information, or to let us know you'd like to attend any of the events, please feel free to contact us at engage@atlantafirstumc.org.

WHEN: Wednesdays 8-9 a.m., beginning August 4
WHERE: Room 14 on the second floor of the Atlanta First UMC Education Building
REGISTER: Click here to register in Realm.
#WellnessWednesdays resume at Atlanta First UMC in August. Join Instructor Allie Williams for FREE yoga Wednesdays from 8-9 a.m. in Room 14 on the second floor of the church education building. Relaxing and accessible to all ages and ability levels, this morning meditation is certain to leave you rejuvenated and ready for the rest of your week. Registration required.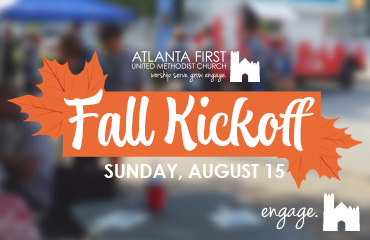 WHEN: Sunday, August 15, 12-2 p.m. (after worship)
WHERE: The Atlanta First UMC rear parking lot
All are invited to our Fall Program Kickoff August 15 from 12-2 p.m. in the parking lot behind the church immediately following worship at 11 a.m. There'll be music, field games, a food truck, and countless ways to connect with the Atlanta First UMC community. You do not want to miss out!