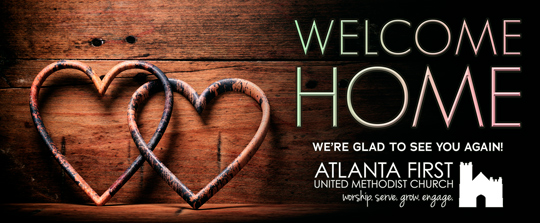 We are excited to be back in our sanctuary for in-person worship! Because of the care and concern you've shown for your neighbors by social distancing, getting vaccinated, and practicing good hand hygiene, our Regathering Team has decided to end worship registration. However, please note, sanctuary capacity will still be limited, seating will be socially distanced, and masks are required at all times on the church property for everyone's safety.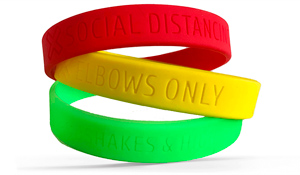 We are introducing the Atlanta First UMC Comfort-Zone Colored Bands, a new way of sharing with our neighbors in worship our preferred in-person levels of interaction.
Green: Indicates you're welcome to a high level of interaction in worship. You accept high-fives, handshakes, and hugs!
Yellow: Means you're really excited to see everyone, but would prefer to catch up with a little space! You may accept forearm-bumps.
Red: Tells everyone you're happy to be here, but would prefer 6 ft. of space at all times. Wave at me and say "Hi" from a distance!"
Worship Safety Guidelines:
• The sanctuary capacity is currently limited to 50 people and seating is socially distanced.
• Masks are required to be worn at all times on the church property.
• Entry into the sanctuary is only available through the Peachtree Street entrance, with the exception of a handicap accessible entrance on Porter Place.
• Please follow the directions of the ushers for seating on the main floor.
• Bulletins and communion elements are given to you by the ushers.
• The main floor restrooms are available.
• The nursery is currently not available. Children of all ages are always welcome to participate in worship in the Atlanta First sanctuary!
JULY & EARLY AUGUST WORSHIP SERIES: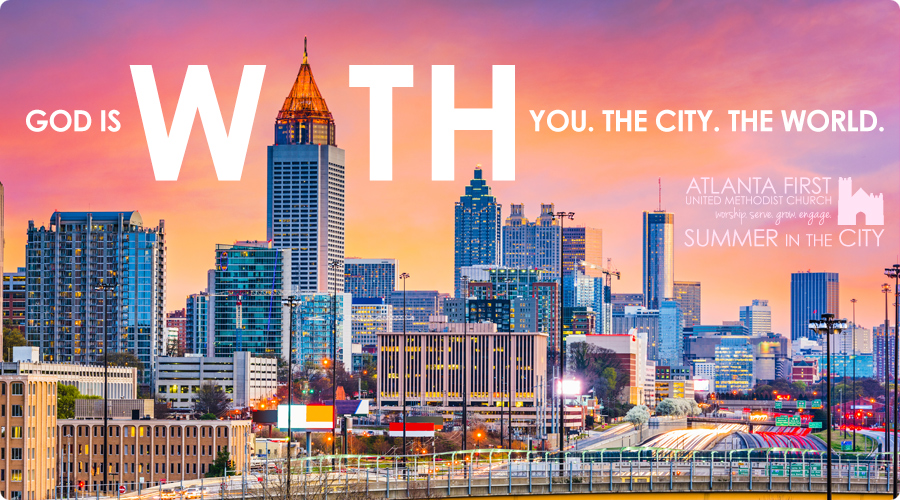 Join us for Summer in the City, which is our relaxed and more informal worship experience for summertime.
Have you ever wondered if God was truly WITH you? WITH us?
1-2 Samuel in the Old Testament of the Bible leads us through a historical exploration of freedom, power, unity, resistance, and the presence of God in our lives. Through the Book of 2 Samuel we are exploring what it means for God to be WITH us in the midst of and in spite of all things. WITH King David and the prophet, Nathan, we see what it means to live in times like these—times that demand a reorientation in the church, world, and our local communities—so that we can be the unified, God-WITH-us, body of Christ that God created us to be.
Is God WITH us? WITH you?
Absolutely! In all things, God is WITH us!
Sundays during July and early August
In-Person and Online Worship at 11 a.m.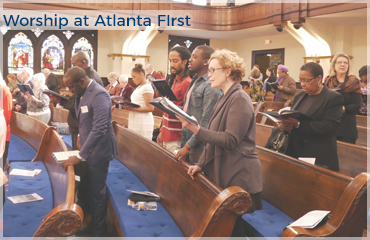 If you are unable to or uncomfortable worshiping in-person, you are invited to worship online in our Live Stream, which is simultateously broadcast on:
www.facebook.com/AlantaFirstUMC
www.youtube.com/user/AtlantaFirstUMC/live
Our weekly worship service is held on Sunday mornings at 11 a.m. Following the traditional format of the United Methodist Church, we worship through music, prayer, scripture reading and an uplifting message provided by Pastor Jasmine. The service features music played on our organ and piano, with singing led by the Atlanta First Worship Team. Every service begins with the chiming of the hour by our historic bell.
On the first Sunday of each month we partake the Sacrament of Holy Communion. This sacred breaking of bread reenacts the Last Supper, a pivotal moment in Jesus' ministry with his Disciples. Through the words spoken and the consumption of the sanctified bread and juice, we admit our sins, and reaffirm our faith in Jesus and the miracle of his resurrection.
For a more complete worship experience, we invite you to attend our online Sunday School class that meets at 9:30 am Sunday mornings.
For a more information about worship at Atlanta First, please contact our Worship Team at worship@atlantafirstumc.org.
We welcome children of all ages to Atlanta First, who are invited to attend worship with their families. Pastor Jasmine always makes a point to deliver an uplifting message to the attending children during the Children's moment in worship.