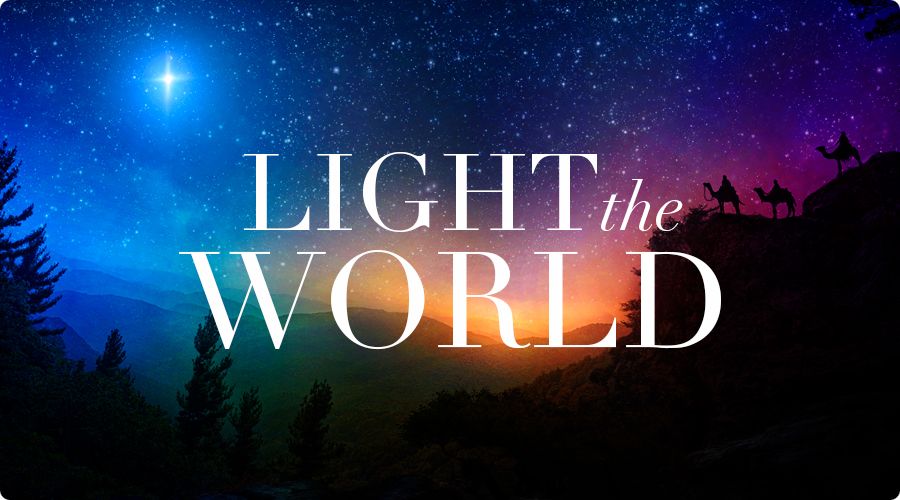 Happy New Year! No, really, Happy New Year! Advent, the celebration of the expectation of the birth of Jesus, begins the new year for Christians. Advent, which means coming, is a season of anticipation. What will the birth of the Christ Child bring? New hope? New joy? New life? New LIGHT!
Let's journey together this Advent as we seek the new hope, new joy, new life, and new light that the Christ Child brings. Jesus spoke to the people again, saying, "I am the light of the world. Whoever follows me won't walk in darkness but will have the light of life." (John 8:12) In this new year, I'm expecting God to release us from the darkness of COVID-19, separation, disagreement, and doubt! After all, we get our light from Christ! And as this new year begins, remember that it's our job to Light the World!
"You are the light of the world. . . . Let your light shine before people, so they can see the good things you do and praise your Father who is in heaven." (Matthew 5:14, 16)
Join us on Sundays in worship and Wednesdays in a grow Group to rediscover Advent - the coming - and to prepare for a new year in the light of Christ! Will you Light The World?
Sundays during Advent
In-Person and Online Worship at 11 a.m.

Christmas Eve Worship
Friday, Dec. 24 at 6:30 p.m.
If you are unable to, or are uncomfortable worshiping with us in-person, you are invited to worship online in our Live Stream, which is simultaneously broadcast on:
Our Facebook Page
Our YouTube Channel
Worship Safety Guidelines
• The sanctuary capacity is currently limited to 50 people and seating is socially distanced.
• Masks are required to be worn at all times on the church property.
• Entry into the sanctuary is only available through the Peachtree Street entrance, with the exception of a handicap accessible entrance on Porter Place.
• Please follow the directions of the ushers for seating on the main floor.
• Bulletins and communion elements are given to you by the ushers.
• The main floor restrooms are available.
• The nursery is currently not available. Children of all ages are always welcome to participate in worship in the Atlanta First sanctuary!